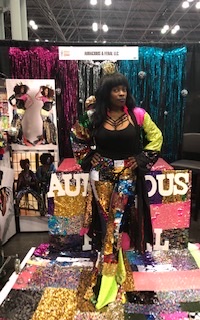 WHO IS THE SEQUINS QUEEN?!
A BALTIMORE NATIVE WHO TOOK HER CHILDHOOD PASSION AND MADE IT A DESIGN DREAM COME TRUE.
SHE RECIEVED TRAINING FROM ONE OF THE TOP FASHION PROGRAMS, AND GAINED HANDS ON EXPERIENCE WORKING IN DIFFERENT SECTORS OF THE FASHION INDUSTRY.

AYANA BETTER KNOWN AS THE SEQUINS QUEEN HAS TRANSFORMED WHAT IS KNOWN AS A "NIGHTLIFE FABRIC" INTO STYLISH LOOKS FOR EVERY OCCASSION!

A WOMAN WHO WANTS TO CHANGE THE WORLD, ONE SEQUIN AT A TIME!

AUDACIOUS & FERAL CREATES PEICES ADORNED IN SEQUINS , FOR THE BOLD AND DARING WOMEN WHO DOESN'T BELIEVE , THAT SEQUINS IS JUST FOR ONE TYPE OF PLACE!! HERE AT AUDACIOUS & FERAL WE WEAR SEQUINS ANY TIME, FOR ANY REASON!!

LONG STORY SHORT, HERE AT WE JUST WANT YOU SEQUINS SLAYERS TO LIVE YOUR LIFE BOLDLY, LOUDLY, AND MOST IMPORTANTLY BEING YOUR AUTHENTIC SELF IN ANY SETTING!
INHALE SEQUINS, & EXHALE EXCLUSIVITY!
SHINE BRIGHT QUEENS!